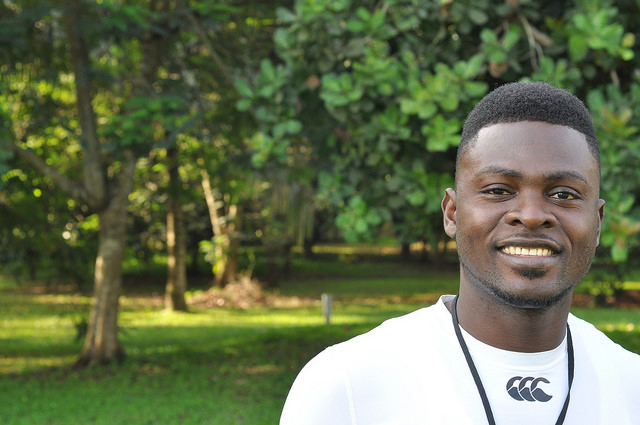 I joined Blue Sky Products Ghana Limited on June 18, 2007; a year after completing high school (Accra Academy).
I worked as a casual staff for over five (5) years in total, collectively in these departments; High Care, Intake and Despatch.
By dint of hard work, I was put on contract as a skilled operative at Despatch in Factory Two (Blue Sky) in the year 2012. My love, dedication, commitment and being proactive in safety at work informed my recommendation as a potential Occupational Health and Safety Officer. I was transferred from the Despatch department to the Technical department, to be professionally trained as an OHS Officer. I attended series of courses/trainings both internally and externally on OHS Management, to prepare me for my new responsibilities.
On January 1, 2014, I was upgraded to Occupational health and safety Officer of Blue skies Juice Gh. Ltd. (now Branded factory) where I currently work. My quest to soar higher and excel in my new role encouraged me to enrol at the Accra Institute of Technology (Open University, Malaysia) in 2015, offering BSc. Occupational Safety and Health Risk Management and currently in level 400.
My personal principle of equal justice for all and fair treatment for all employees made me win two consecutive elections as the central committee member of the Blue skies staff Association(BSSA) for the Branded factory. I rose through the ranks to become the convener for the BSSA Central Committee. My colleagues recognised my leadership skills and elected me as the substantive Leader  of the BSSA Central Committee, a position I currently hold.
My passion for sports/fitness over the years made me to join the Blue skies keep Fit Club in 2012. After two (2) years of consistently training and helping run the affairs of the club, I was selected by Blue Skies Management to join four (4) of my colleagues to be trained at the Winneba Sports college as certified Physical fitness Training Instructors. Due to my zeal to excel in all roles, I went further to enrol in an advance Fitness training course organised by the Ghana National Sports Authority and some online courses. My commitment to duty and effectiveness in the club have made me one of the leading Instructors of the club, keeping members (mostly employees) fit and healthy. I have had the opportunity to be featured in most of Blue skies social media platforms on Health and Fitness issues. My hard work and commitment in the fitness industry enabled me to be elected as the General Secretary of the Greater Accra Keep fit Instructors Association (Ghana); a position I still hold.
I have had numerous opportunities and learning points in Blue skies. One of the greatest things I learnt while in Blue skies is the sign language. Blue skies operates a culture of seamless society and equal opportunities for all, hence, the employment of Deaf people. My association with these people made me interested in their language and opted to learn further. I took some online sign language lessons which made me better in communicating with the deaf. With my little knowledge in sign language, the deaf employees always look out for me whenever there is a fire drill or durbar in the factory; for interpretations.
I have also grown in the area of entertainment here in Blue skies. My experience in writing poems/ scripts and the position as the Accra Academy Drama Club President while in school also aided me in writing and directing not less than three (3) drama performances at Blue skies social functions, including a drama/sketch on the launching of Tropicoco/lemonade/SLG Juice on June 3, 2015. I also wrote a poem for Dr. Anthony Pile (Founder of Blue skies) which was performed on his 70th birthday at a grand occasion held at Blue skies Ghana.
I have never limited myself in any sphere of life towards helping Blue skies achieve its targets in all angles of the business, be it productivity, social, sports, entertainment and politics.
By Sampson Kwawukumey a.k.a Emeka