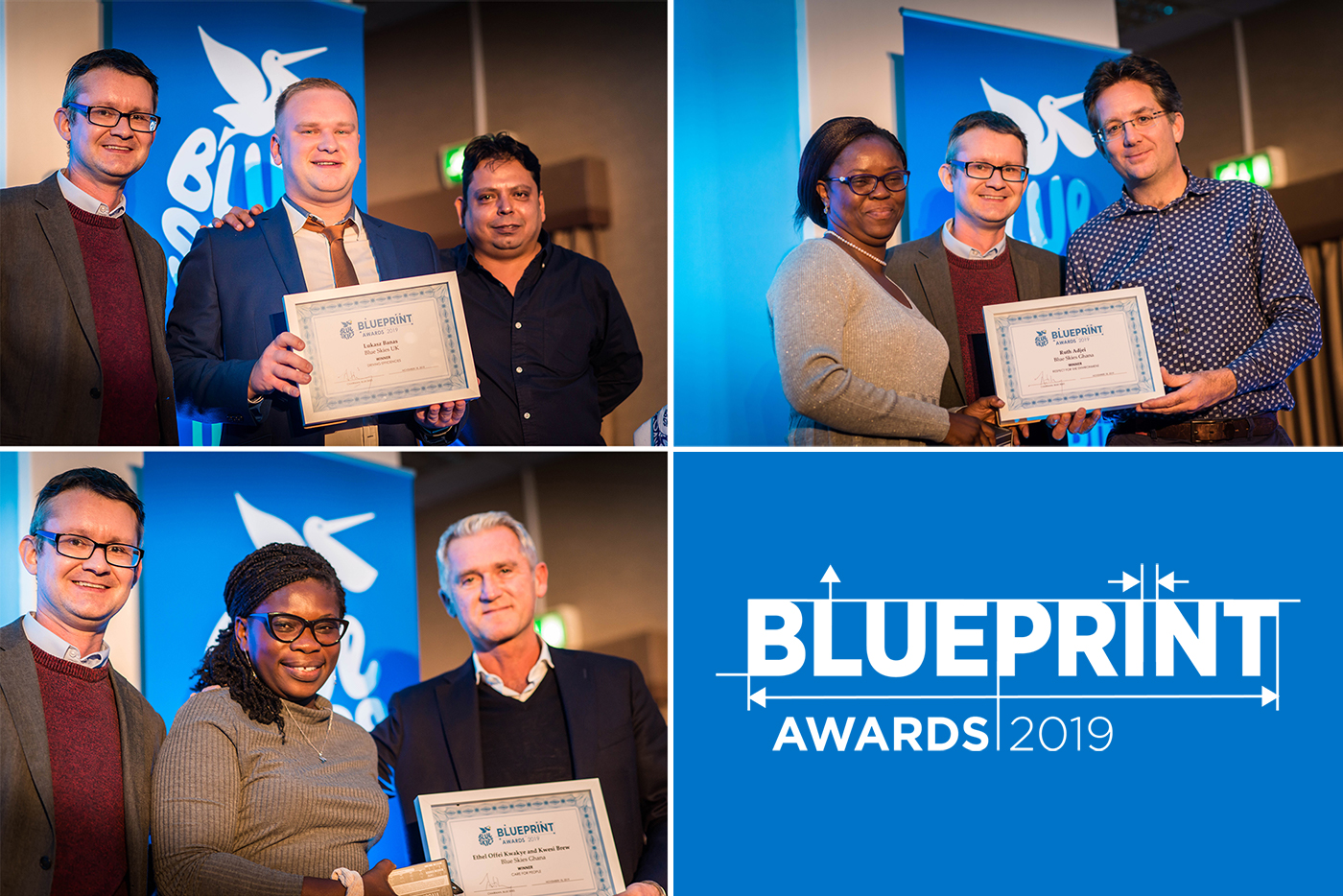 The 2019 Blueprint Awards have been announced during the Blue Skies Annual Conference at Sedgebrook Hall in the UK. In total, over 25 nominations were received in three categories; Care for the Environment, Respect for People and Driving Efficiencies.
Pictured top left: Lukasz Banas from Blue Skies UK collects the Driving Efficiencies award. Top Right: Ruth Adjei from Blue Skies West Africa collects the award for Care for the Environment and (bottom left), Janet Lutterodt collects the Care for People Award on behalf of Ethel Offei Kwakye and Kwesi Brew from Blue Skies Ghana.
THE WINNING ENTRIES…
---
CARE FOR THE ENVIRONMENT
Winner: Ruth Adjei, Blue Skies West Africa
Initiative: Ruth has spearheaded the use of bat boxes to provide a home for bats at our papaya farms. It is hoped that encouraging bats that feed on insects will help to reduce the use of pesticides.
---
DRIVING EFFICIENCIES
Winner:
Lukasz Banas from Blue Skies UK
Initiative: Introducing continuous production methods in Brazil. Lukasz increased productivity by 55% by making modifications to a mango processing line.
---
RESPECT FOR PEOPLE

Winners:
Ethel Offei Kwakye and Kwesi Brew from Blue Skies Ghana
Initiative:
Second Party Audits. Ethel and Kwesi have successfully led the implementation of a second party auditing system which actively seeks to help improve the livelihoods of farmers.
---